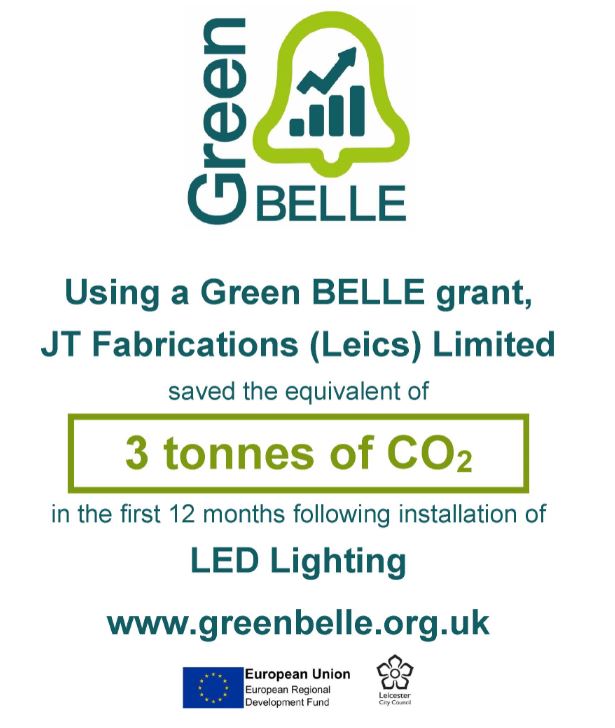 JT Fabrications are pleased to share our current Emissions savings:
It has now nearly been a year since the LED lighting installation was complete at JT Fabrications (Leics) Limited. I hope the lighting quality has improved and you have noticed a difference in your electricity bills.
One of the targets for Green BELLE is to calculate the greenhouse gas emission saving, by comparing the energy usage of the measure one year before installation and then one year afterwards. With lighting, we can calculate the greenhouse gas emissions savings from the lighting data specifically, rather than from energy bills as a whole. This is because there will be many other things using electricity in your business.
JT Fabrications (Leics) Limited has reduced the greenhouse gas emissions by a total of 3 tCO2e, which is approximately a total carbon saving of 56% on your lighting. That's enough carbon dioxide gas to fill 1 three-person hot air balloons!
This was calculated as a result of comparing 12 months of lighting energy use before and after installation. The electricity cost has been calculated by using the average cost of electricity at standard rate, as estimated by the Energy Saving Trust. This can be changed in the table on the right of the worksheet and it will update the monetary saving that has been calculated.
This is not a one-off reduction in greenhouse gas emissions, and there will continue to be an annual saving as a result of these energy efficient measures.
Kind Regards
Nicola Holt
Project Officer – Green BELLE
Leicester City Council
0116 454 2700 / 0116 454 2232